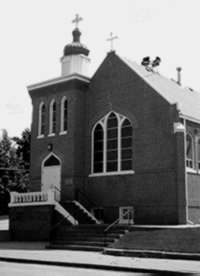 The history of Saint Johns Orthodox Church in Omaha is closely tied to the history of the Greek Community.
The first significant influx of Greeks in Omaha took place in 1904, when they arrived as replacement workers in South Omaha's large meat packing industry. By 1907 there were an estimated 2,000 Greeks in the greater Omaha area, though they were largely concentrated in South Omaha.
The Greeks were hard workers and they flourished in South Omaha. By 1909 there were over 32 businesses owned by and largely catering to the Greek Community. In 1907 the need for a church was formally discussed, and by 1908, Saint John the Orthodox Church was built at 16th and Martha streets. This building is still in service today as a Ukranian Catholic parish.
Interestingly Saint John's was not officially incorporated until 1927 and consecrated in 1928 by Archbishop Vassilios. For a short period Omaha had two Greek Orthodox churches, due to a schism caused by political events in Greece.
The advent of World War II was to change the lives of Greek Americans forever. Rather than surrender to Mussolini's forces, Greece's Prime Minister John Metaxas refused Italian demands. The tenacity and ferocity of the Greek resolve were a source of admiration around the world.
Following the war, Greece did not share in the new found freedom that much of Europe experienced. The years 1943 to 1949 saw a bloody, protracted struggle against communism and totalitarianism.
On December 16, 1951, the parish finalized the purchase of the former Temple Israel, located at Park Avenue and Jackson streets. Interestingly, the temple began construction on 1907 and was dedicated in 1908; in parallel to the formation of Saint John's. The Synagogue is architecturally Byzantine. Its dome, like that of the Sixth century marvel Haghia Sophia (Holy Wisdom) of Constantinople, had windows piercing its base and four pendentives resting on four heavy columns. This gives the building superior accoustics and a breathtaking internal view.
In 1953, the original church at 16th and Martha streets was sold and the new church occupied after undergoing extensive renovations. The new home of Saint John the Baptist parish was consecrated on Sunday, May 4, 1958 with the Rt. Reverend Bishop Ezekiel of the Chicago Diocese officiating. Also in 1958, the parish drafted and approved a new constitution and community by-laws. The constitution provides for a Parish Council to be elected and vested with executive powers.